I just came across another article about today's day in court, posted by the Kitchener paper
The Record
about an hour ago. There are a few new nuances here:
* in addition to the bit about the home renovation I posted about previously, we learn here that the purchase of the horse for Sue Hayhow's daughter was introduced today and a cheque presented to the jury that showed that funds for the horse came from agency funds. Also, it appears that the prosecutor intends to present evidence of credit card misuse. Good.
* this article confirms what I'd believed to be true - that it was a board member (a new one, which I didn't know) who started getting suspicious after learning that Sue Hayhow paid her (now ex) husband a full year's salary after he learned of her affair and left the agency's employ.
* In this article, we hear the first bit of information about what the defence's case might be: Pitting the two Hayhows against each other. It's interesting to me that her lawyer doesn't seem to be denying that agency cheques were used to pay for personal expenditures; he doesn't seem to be arguing that they paid the agency back for those personal expenditures; he instead appears through his questioning to simply be wanting to blame Rick Hayhow for the (alleged) fraud by saying that he was responsible for paying the bills (though her signature was apparently on the cheques and, even if not, she as the Executive Director would surely be responsible anyway) and she may have been 'distracted.'
Interesting...finally we're getting to hear a little about what the Hayhows might have been thinking these past five years since the bankruptcy!
~~~~~~~~~~~
Here's the link for the article noted below:
Agency Cheques Used to Pay For Horse & Home Renovations
Agency cheques used to pay for horse, home renovations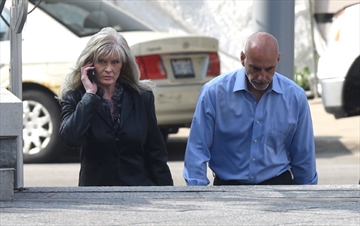 Susan Hayhow
Mathew McCarthy,Record staff

KITCHENER — Jurors were shown several cheques Tuesday that were used to pay for home renovations and a horse by a former couple accused of ripping off an international adoption agency.
Susan and Rick Hayhow were the key executives at Imagine Adoption in Cambridge before it went bankrupt five years ago amid a scandal involving infidelity and alleged fraud.
They are now on trial in Superior Court in Kitchener in relation to hundreds of thousands of dollars in alleged personal expenses charged to two of three related agencies that operated as Imagine.
Three cheques totalling about $50,000 went to the Canadian Home and Renovation Team, a Kitchener company that did extensive work at the couple's old stone house on Roseview Avenue in Cambridge in late 2007 and early 2008.
A fourth cheque for $3,000 was used to buy a horse from a Blenheim-area woman a few months before the organization collapsed in the summer of 2009.
The cheques were all signed by the Hayhows and drawn on accounts held by two of the agencies that operated under the non-profit Imagine umbrella.
In an opening address to the jury, Crown prosecutor David Foulds said there will also be evidence about agency cheques used to pay for fences, a pergola and flooring at the home.
An agency credit card, meanwhile, was allegedly used by the Hayhows from early 2007 to mid-2009 to pay for vacations, chiropractic treatments, dental work, jewelry, clothes and other personal expenses.
"We'll do our best to try to make the trail clear for you," said Foulds, noting finances at the related agencies often overlapped.
Imagine — which primarily facilitated adoptions from Ethiopia — began to unravel after the couple's marriage broke down in the spring of 2009 over an affair Susan Hayhow had with a board member.
After her estranged husband agreed to leave the four-year-old agency with a year of severance pay, a new member of the board of directors began to scrutinize its finances.
It was placed into bankruptcy soon after, stunning about 400 couples across the country who were then at various stages of the costly, lengthy adoption process.
Fraud charges were laid following by an 18-month investigation by the RCMP and Waterloo Regional Police.
Foulds didn't specify how much money is allegedly involved in the eight fraud counts at issue in the trial, which is expected to last two to three weeks.
Defence lawyer Michael Lacy, who represents Susan Hayhow, suggested through questioning of the first two witnesses that Rick Hayhow was responsible for paying bills.
He introduced several personal cheques, mostly made out by Rick Hayhow, that were also used to pay for improvements including new kitchens and bathrooms at the home.
Foulds told jurors that Imagine grew rapidly as hopeful parents "lined up" for help and Susan Hayhow, the executive director, spent a lot of time travelling.
"She may have been distracted from the business, if you will, by personal matters," he said.