Well, as expected, Sue and Rick Hayhow, former Executive Director and Chief Financial Officer of Imagine Adoption, entered pleas of 'not guilty' to the charges of fraud brought against them; this transpired yesterday in court, along with jury selection.
Below, in the Brian Caldwell article I've linked to, is a picture of Sue Hayhow. She is no longer married to her co-accused, Rick Hayhow. Instead, Sue is now married to Andrew Morrow (pictured with Sue below), with whom she had an affair in the year before Imagine's bankruptcy. Andrew Morrow was a board member of the pre-bankruptcy agency where Sue and Rick ran the show, and Morrow's wife was an employee of Imagine who worked with Sue Hayhow. Hmm...awkward. Families learned
after
the bankruptcy of the agency that when Rick Hayhow found out about the affair his wife was having with a board member/employee's husband, he left Imagine...understandable except for the part where he left the agency with a full year's salary approved by Sue Hayhow...which would have been quite a substantial sum because the two were earning a combined $320,000 salary while driving their leased (by the agency) luxury vehicles. I
believe
(hopefully I've remembered my facts, but if you know better, correct me) it is this payment to Rick Hayhow that, when discovered by a member of the agency's board of directors (NOT Andrew Morrow), triggered further investigation and questioning by certain members of the board about other expenses; it was the beginning of a few board members realizing that something was very awry, and it was this process that ultimately led to these board members shutting down the agency (on the Friday afternoon just before the Monday when families learned about the bankruptcy), instigating the bankruptcy, and involving the police.
Rick and Sue Hayhow were reputed to be Christians (Andrew Morrow, too, from what I understand) which, for me, makes it all somehow worse. One of the (several) initial reasons we chose Imagine as our Ethiopia facilitator was because adoption can be a shady industry and we wanted to work with people we hoped held to high standards of morals and ethics. We assumed that our common bond of Christianity would be one barometer against which to evaluate them as the leaders of the agency. We did other research as well, and talked with other clients and researched the other main agency in Canada; but we certainly felt a level of comfort at the prospect of working with people who had once spent years working together as house deans of a Christian college.
Let me do a side-bar for a moment to ensure that I'm being clear about something. Christians sin; Christians are people just like any others and have a fallen nature. I've made horrible and embarrassing and large and impactful mistakes in my lifetime and have profound regrets about a few things that I have done knowingly and consciously and unwisely. In fact, it's knowing how much I, too, have messed up that allowed me to forgive the Hayhows early on, in the devastating days when I thought our adoption dreams were finished. The truth is that I'm no better than them; I sin, too, and I also get how pervasive sin in one's life can be and how it can creep into one's life and grab hold. That's the nature of sin, and it's why I'm so grateful to be a Christian because I
do
mess up so much and so big sometimes, and I
need
grace. I extend the Hayhows grace through forgiveness because others have done that for me and because God has done that for me.
Perhaps the nuance here, from my perspective, has to do with their entering a not guilty plea yesterday. I'm not surprised at all by it - in fact have been expecting it for years already - but it grates on me nonetheless. They've pleaded not guilty. There's the nuance. My hope and desire is that as a Christian, I come (perhaps over time) to own and confess my sin and to ask for forgiveness - of God and of the people I have impacted by my wrong-doing. But the Hayhows seem, at least from the perspective I'm sitting in and from all reports, to be staunch in their unwillingness to repent and/or to ask for grace and forgiveness...which is what so many families affected by their wrong-doing need to hear. I find this troubling, even as I do understand logically that they are relying on the due process of the legal system to be forced to prove their guilt. Maybe they
do
privately own their wrong-doing but are hoping to avoid jail time by entering not-guilty pleas; and maybe I would do the same thing in their shoes, even knowing privately that I'd done wrong.
And maybe I'm jumping the gun here. Maybe the fraud charges are mistakes and they really didn't do all of those things that we're so sure they've done. But it's hard just writing that down, because it's really difficult to otherwise explain where all of our money went. How can well over $400,000 simply disappear from agency coffers unless explained by the cheques written out to home renovation and fencing and other companies; how else can cosmetic dental work, $10,000 family vacations to New York and also to Disney World charged to the agency credit cards be explained away? Regardless of the coming verdict, it's hard to give them the benefit of the doubt when it comes to whether or not they committed wrong-doing.
They may well end up with a not-guilty verdict. As I mentioned yesterday, fraud charges are notoriously hard to prove to the beyond-a-reasonable-doubt standard. There's a paper trail that must be found and proven in a world where records simply aren't always kept, where links in a chain of events can't be found, and where documents are often not kept beyond a certain period of time, etc etc. But a not-guilty verdict won't mean that they didn't do it...just that there's not enough to surpass the high threshold required for a guilty verdict. If that happens, I guess they'll simply be left to their own sense of conscience.
Although I can live without it, although I have forgiven without it, it would certainly be nice if, instead of years of denials and protestations and now pleas of not guilty, someday, somehow, somewhere, families were simply told by those responsible that yes, a wrong-doing was committed...that they did wrong...and maybe that they're sorry. It would just be nice.
~~~~~~~~~~~~~~
Link to the Article below, published yesterday:
Former Executive Plead Not Guilty in Adoption Fraud Case
Former executives plead not guilty in adoption fraud case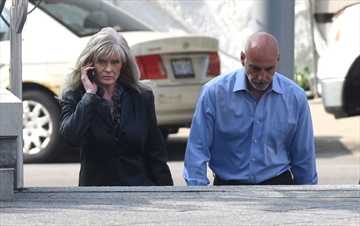 Susan Hayhow
Mathew McCarthy,Record staff
Susan Hayhow arrives at court in Kitchener on Monday with her new husband and former agency board member Andrew Morrow. She pleaded not guilty to defrauding the agency that arranged adoptions.
Waterloo Region Record
KITCHENER — A former couple pleaded not guilty Monday to defrauding a Cambridge-based agency that arranged the adoption of poor children from overseas.
Rick and Susan Hayhow were the key executives at Imagine Adoption, which went bankrupt almost five years ago in the midst of a scandal involving infidelity and suspect expenses.
The fraud allegations, to be tried in Kitchener court over the next two to three weeks, involve hundreds of thousands of dollars spent on home renovations, vacations and high-end shopping.
One of the eight counts outlined as the trial began with jury selection Monday concerns the purchase of a horse and saddle.
Hundreds of would-be parents across Canada were devastated when the four-year-old agency, which primarily facilitated adoptions from Ethiopia, collapsed.
An umbrella organization for three related agencies, Imagine Adoption collected fees of $20,000 or more per child to guide clients through the lengthy adoption process.
A nonprofit Christian organization, it came under financial scrutiny by directors after Susan Hayhow had an affair with board member Andrew Morrow, and Rick Hayhow left with a year of severance pay.
Susan Hayhow, now 48, was the executive director, while Rick Hayhow, now 49, was the chief financial officer. On top of an expensive leased vehicle each, the Hayhows had a combined income of about $320,000.
The trial in Superior Court is expected to hear from about a dozen witnesses, including two directors who went to police with concerns about expenses and Morrow's former wife, who was an agency employee.
The Hayhows are jointly charged with six counts of fraud involving cheques written on agency accounts. In addition, they are charged individually with using an agency credit card for personal expenses.
Crown prosecutor David Foulds is expected to make his opening address Tuesday following the selection of the last three jury members.